Boycott launched
of CBS' 'Reagans'
Targets advertisers of miniseries that 'smears' former president, wife
<![if !supportLineBreakNewLine]>
<![endif]>
---
Posted: October 28, 2003
Eastern
By Art Moore
© 2003 WorldNetDaily.com
An upcoming CBS miniseries that reportedly casts former President Ronald Reagan and his wife Nancy in a negative light has prompted a boycott.
A former chief of staff to a U.S. congressman has teamed with colleagues to set up a website urging television viewers not to watch the two-part series and boycott its advertisers for 30 days during the peak of the holiday shopping season.
<![if !vml]>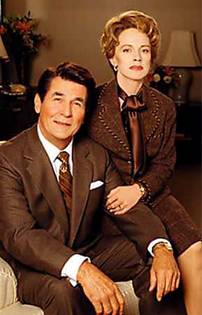 <![endif]>
James Brolin, Judy Davis as Ronald and Nancy Reagan in CBS miniseries
"This time, Hollywood has gone too far," said Mike Paranzino. "What cruelty must lie in the hearts of CBS executives to smear the Reagans while Nancy Reagan copes every day with her husband's devastating Alzheimer's disease. The vast majority of Americans respects the Reagans and will find CBS' dishonest tale revolting."
The miniseries, set for airing Nov. 16 and 18, includes scenes of Reagan cursing at his staff and his wife slapping her daughter, according to script excerpts published by the DrudgeReport.
Other scenes, according to Drudge, show the former president declaring he is the anti-Christ and, in response to AIDS, stating, "They that live in sin shall die in sin" – though there is no record of him saying such things.
The reports, coupled with one published by the New York Times, increases speculation among Reagan supporters it will be a politically charged hatchet job disguised as entertainment.
It already has been denounced by Michael Reagan, the former president's adopted son and radio talk-show host.
"It's horrendous, it's absolutely horrendous," said Michael Reagan after viewing eight minutes of excerpts of the film. "They paint my father as a buffoon," he told talk-show host Sean Hannity. "They also have my dad taking God's name in vain in an angry, angry way. ... They have him calling another person in anger an S.O.B. I've never seen my Dad that angry and I've never heard him use the 'G-D' word in my life," Reagan complained.
Boycotter Paranzino said companies have "every right to finance this TV show's hate speech, and Americans have every right to punish those companies that support this cultural pollution."
Paranzino told WorldNetDaily he realizes boycotts of networks usually have little impact, and so he intentionally narrowed his effort.
"It's designed to say you can watch 'Everybody Love's Raymond,'" the popular CBS show, he said, "but you can defeat the left here simply by not watching this series and making the network and its sponsors pay a price."
Since launching his site yesterday, he's received a strong response, he said, including e-mails from people who say they're willing to go beyond his focused effort and boycott the entire network.
"There is a lot of anger out there," Paranzino told WND. "Doctors, lawyers, retirees, homemakers – people are just furious at this obvious smear."
A woman from the East Coast, for example, forwarded him her letter to CBS executives, which said:
Well, now it is payback because, not only will I and every person I can personally touch through my vast Internet connections, no longer frequent your vile programming, those who contribute to the distribution of this despicable excuse for viewing through their advertising, will be boycotted, not for thirty (30) days, but, forever.
One man said he will "never watch CBS again because of their intention to broadcast the Reagan smear movie."
Another said: "I will boycott everyone and everything associated with this disgrace."
A Texas couple wrote: "We eagerly await the publication of the sponsors of this tripe. Count us in!!"
A retired U.S. Air Force colonel also signed on to the campaign.
Paranzino said sponsors of the program have not been announced and might remain unknown or undetermined until just prior to the airing.
Elsewhere around the Internet, contributors to message boards are urging a boycott of advertisers of other CBS programs.
Some commentators expect the controversy to boost the ratings of the series, but Paranzino disagrees.
"Sure, a little controversy sometimes helps, but there is a sense out there that CBS has crossed a line," he said. "These people are such cowards. They couldn't beat Ronald Reagan at the ballot box and they never forgave him for standing up to the Soviets, so now, as Alzheimer's disease ravages him in his 90s, they decide to pick on him and his wife. For that spineless cruelty, they will pay a financial price."
The miniseries will be broadcast during "sweeps week" when garnering high ratings will allow networks to charge higher rates for advertising.
Paranzino is a political consultant who worked for former Rep. Matt Salmon, a Republican from Arizona, and served as press secretary for the presidential exploratory committee of Sen. Elizabeth Dole, R-N.C., and research director for the 1994 campaign of Sen. John Kyl, R-Ariz.